From the perspective of North American producers, 2018 is one of the best years for wood pellet trade for a long time. With the rise of the Drax power station in the UK, after several years of moderate development, new markets and consumers have driven strong growth in global demand.Imports from Denmark, South Korea and Japan were all up at least 40 per cent from previous highs, and imports of wood pellets from Japan more than doubled.
After several years of weakness, better market conditions and fewer inventories have also led to strong growth in the heating market in North America and Europe.
Overall, the trade volume of wood pellets in 2018 is estimated to be 23.8 million tons, which is 26% higher than the 18.9 million tons in 2017. This article will look ahead to major market expectations in the next few years.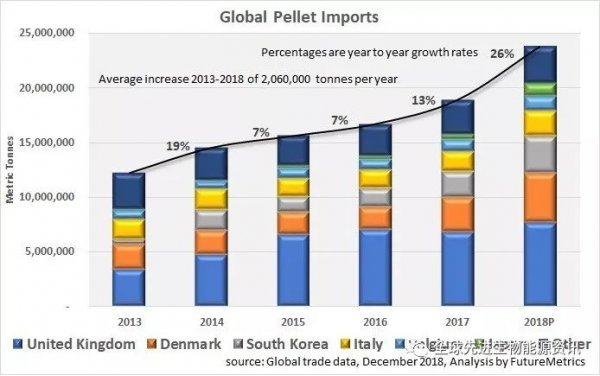 Industrial biomass pellet market
The demand for industrial biomass pellets in 2018 is estimated at 17.5 million tons. FutureMetrics predicts that industrial demand will climb to 29 million tons in 2023.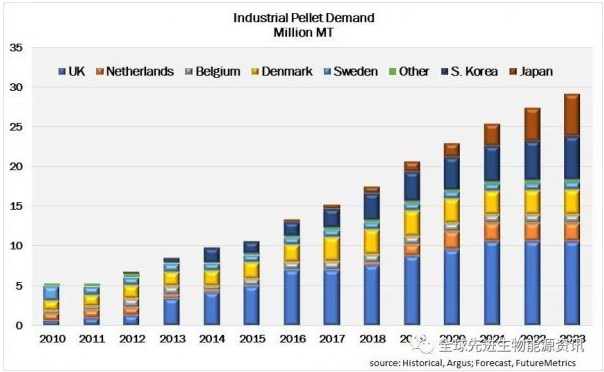 It is estimated that nearly 60% of the new demand growth will come from Asia, and most of the rest will come from increased demand in the UK and the re-emergence of the important industrial biomass pellet market in the Netherlands.
United Kingdom
In 2018, with the commissioning of EPH's 396 MW Lynemouth power station transformation and the conversion of the fourth unit of the Drax power station, the demand for pellets in the UK increased significantly for the first time in a few years.
Looking ahead, the growth will be mainly driven by the full operation of the Lynemouth power station and the increased availability of the Drax power station. By 2020, with the scheduled trial operation of MGT's 299 MW Teeside cogeneration plant, demand in the UK will increase again, and it is expected to use 1.5 million tons per year.
Netherlands
The Netherlands has a long history as a major market for industrial wood pellets. In 2010, the Netherlands was the largest market for industrial wood pellets-used for co-firing to achieve renewable energy goals. After the launch of the new renewable energy subsidy program in 2012, the market declined rapidly. The new SDE+ program requires the development of new sustainability standards before biomass co-firing is eligible for subsidies. The sustainability standard was finally approved in 2015.
In 2016, four power stations jointly received subsidies: RWE's Amer and Eemshaven power stations, Engie Rotterdam and Uniper Maasvlakte 3 (MPP3). Unit 9 of the Amer Power Station was co-fired under the old subsidy program and resumed co-firing a large amount of wood pellets in the fourth quarter of 2018.
Other power plants may start co-firing in 2019 and 2020, making the Netherlands once again a major market for industrial wood pellets. The increase in demand for co-firing in the Netherlands is expected to rapidly approach 2.5 million tons.
Japan
Japan's wood pellet imports exceeded 1 million tons for the first time in 2018, about twice the amount imported in 2017. By the first three quarters of 2018, 63% of Japan's wood chip imports came from Canada and 31% came from Vietnam. Since Japan supports fixed prices and long-term contracts for feed-in tariff subsidies for renewable energy, long-term contracts with strong opponents (such as Canada and the United States) are the preferred method for most Japanese buyers to purchase wood pellets. We expect Japan's wood pellet imports to continue to grow rapidly in the next few years, and it is estimated that imports in 2023 will exceed 5 million tons.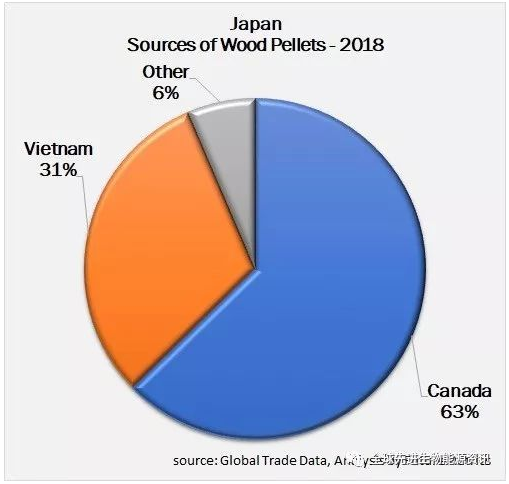 Korea
In South Korea, renewable energy is promoted by the Renewable Energy Portfolio Standard (RPS), which requires utility companies to obtain more and more energy from renewable energy. A tradable renewable energy certificate (REC) is used to prove compliance. Utilities have three ways to meet RPS: produce RECs themselves, buy RECs on exchanges, or pay a fine equivalent to 150% of the average price of RECs during the year. The utility company found that co-firing wood pellets is one of the most cost-effective ways to meet RPS.
However, due to uncertainties in the value of RECs, electricity prices, and pellet prices, it is more difficult for Korean buyers to sign long-term contracts. Nevertheless, there are still cases of successful contract negotiations with North American producers, especially with dedicated biomass power plants (rather than co-firing at coal stations by major utilities).
South Korea's demand is mainly met by the rapidly growing production capacity of wood pellets in Southeast Asia. In 2018, South Korea's wood pellet imports are expected to reach 3.4 million tons, of which more than 95% will come from Southeast Asia.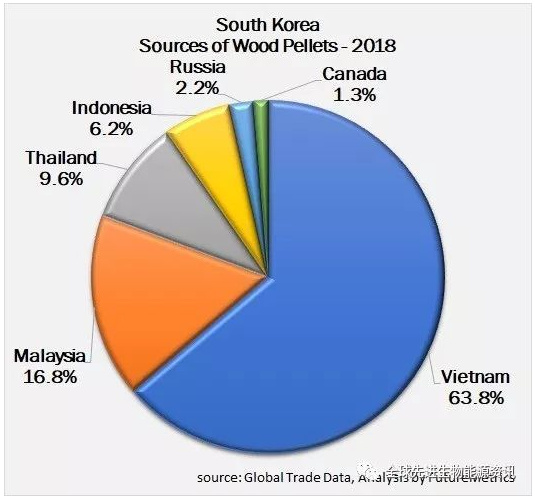 Pellet heating market
Although the industrial pellet market has received a lot of attention from market analysts, the heating market accounts for a large increase in total global demand. FutureMetrics predicts that the next five years will continue to grow strongly. Warm winters and low competitive fuel prices, especially heating oil, have slowed the growth of demand for pellet heating in North America and Europe in the past few years. Although the recent drop in oil prices has caused some concerns, in most cases pellets still save a lot of cost compared to fossil heating fuels in Europe, and in addition to natural gas in the United States, the same is true in North America.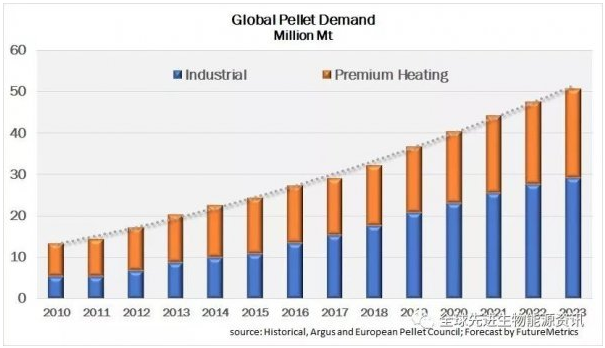 In most cases, pellet heating needs are provided by local producers, so the impact on global trade is small. Although the United States, Germany, France, Austria, Sweden and other countries have a large demand for pellet heating, the only market that has a significant impact on global trade is Italy, where pellets are mainly used for household heating. We estimate that Italy imported 2.3 million tons of pellets in 2018. The market may be larger because there is a black market for wood pellets in Italy to avoid a 22% value-added tax (VAT)-estimated at 200,000 to 300,000 tons provided by the Canadian Wood Pellet Association.
The United States has one of the largest pellet heating markets in the world. The annual demand in 2018 is estimated at 2.5 to 3 million tons. Approximately 85% of U.S. demand is met by small and medium-sized domestic producers, approximately 10% comes from Canada, and 5% comes from industrial producers in the southern United States. In the past few years, the US pellet market has overstocked, but it has been cleared, and producers are now worried about the market shortage in the 2018-2019 heating season, mainly due to fiber supply problems in the east (about 50% of the US market is in the northeast). We expect that the US heating market will experience moderate growth in the next few years, but this is different from what the industrial market expects.